The Pool° is a visionary concept for the Future of Work, based on accelerating innovation through Open Innovation while aiming at decelerating the people and creating innovation that is good for humans and good for the planet. The Packaging Industry has been chosen as exemplary, but the concept can be transferred to many other industries.
With the Sustainability Wheel°, The Pool° works on creating (and later on refining and updating) an easy-to-use and commonly accepted tool that helps to evaluate and compare the ecological impact of packaging solutions.
>> PDF: I want to live in a Science Fiction World >> Who is with me? // (open in new window)
'I want to live in a Science Fiction World. >>Who is with me?'
There is this famous scene in one of my favourite movies, Blade Runner, in which they fly through and over Los Angeles in the year 2019. Everything is seriously science fiction – the flying car (!), the architecture, the glowing umbrella sticks, the flashing advertising zeppelin. Everything, except Harrison Ford's trenchcoat and the on-the-go noodle packaging that he is eating out of – they are seriously 1980s.
When I first saw that movie around 1990, I thought this might be a little like the real Los Angeles in 2019 – clear, since Blade Runner was supposed to look realistic. With still nearly 30 years to go. Now it is 2020 and the World does not look like in Blade Runner. Which is good, in many ways – our computer displays and smartphones are much better, we have LED lighting and it is not raining so much. Others are very similar – e.g. big eyebrows really are just the trend.
But a lot of things seriously suck today and still seem to be cemented – even if they are only social institutions that we can change today if we have a better idea. Just like fiat money capitalism – or the way we think a company must be structured.
This Site is best viewed with FRAMES

to get bookmark thumbnails for navigation & to enable convenient browsing through the different contents & presentation materials.
Launch >> Site with frames // >> Site without frames
Imagine a Place all about Packaging...
Where to go when You have a great & innovative product and need the right packaging for it? There should be a beautiful place that is all about packaging, with experts working there that can explain the technologies, give neutral advice and – if required – can organise all kinds of support for Your projects.
The Pool° Organisation
>> PNG: The Pool° is friendly.
>> PDF: The Pool° Presentation
🚀 ARE YOU INNOVATOR?
Then you will want to be part of the Pool°!
>> Democratic Guild of Innovators ruled by SKILL
>> (Freelancer) Expert Network for Innovation Services
>> Platform for Open Innovation & project-based Alliances
>> Integrated Currency Emittent
Always think BIG.

I am a creative, holistic strategist & trained to think BIG. Creativity is my profession & I have played many, many strategy games. This is the Link to my website as a consultant: OSS° // Office of Strategic Services.
As such a strategist, it seems strange to me to watch most other people only looking for the next income stream. Everybody wants to be 'entrepreneur' & is thinking up new business models today. That is a great thing, if it is about innovative concepts that have been developed with the benefit of the PEOPLE in mind and not with maximum profit.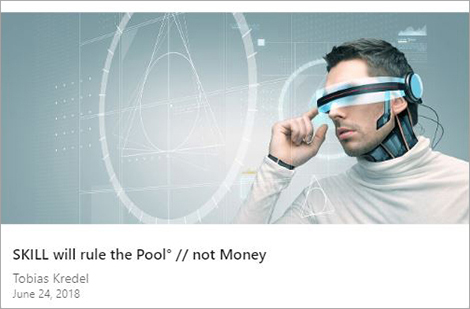 >> PDF: Skill will rule the Pool° not Money // (new window)
But most businesses are all about maximising their sales figures. The Swedish menswear label ASKET for example has a different goal. They want People to buy less clothes. "Our end game is to curb the fashion industry and to slow down people's rate of consumption," says CEO and co-founder August Bard Bringéus.
🤖 Now people will say "This will destroy even more jobs than will already be destroyed through digitalisation!" Hopefully, yes. We imagine a future in which NOBODY needs to do work they do not like. This work will be done by robots. All the boring thinking will be done by AI also.
We will have TIME to enjoy Life and discuss how we could make the World even better. 🌞 Like with new concepts and business models. But these cannot solve the Problems of unemployment & all the rest that we will have to face now together with the fall of Capitalism.
This fall cannot be cushioned by any business model. And we for sure do not want to install a Communist system. So the answer is a new kind of business ORGANISATION.
Limited or stock-listed companies, etc. are primitive structures. The Pool° Organisation is a new kind of entrepreneurial ecosystem, designed to accelerate innovation for the ever-faster turning cycles of our new Millennium. While decelerating the people.
>> PDF: Pool° Organisation Presentation // (new window)
We are starting with a Pool° for FMCG & Packaging Innovation. It will have five nonprofit mission targets:
★ SUSTAINABILITY
★ INNOVATION
★ EDUCATION
★ PROMOTION
★ COOPERATION
In the past, packaging was regarded as not very important. Brands were made through advertising -- and with superior QUALITY. Today now (and in the future even more), advertising is not only not effective anymore, sometimes it is even becoming contraproductive. Advertising is everywhere today, it is becoming intrusive harassment. We are stressed by it, we need to invest energy to avoid it & often we hate it (pop-up ads!).
Public one-way ADVERTISING -- all too often for products and services that we do not really need -- spams our channels and makes us start to strictly filter information. Much advertising also promotes the wrong values and suggests additional or unhealthy consumption. It is becoming an outdated way of communication.
Years ago, advertising was something nice that recipients could regard as useful for themselves. It was a communication channel that informed about product innovation. Today, it is becoming a nightmare. With countless digital channels and e-commerce as well as more and more purchase decisions being made at point of sale, FMCG marketing money is better used for packaging. A great scene in the science fiction film 'Minority Report' shows where we might end up with Pandora's Box wide open.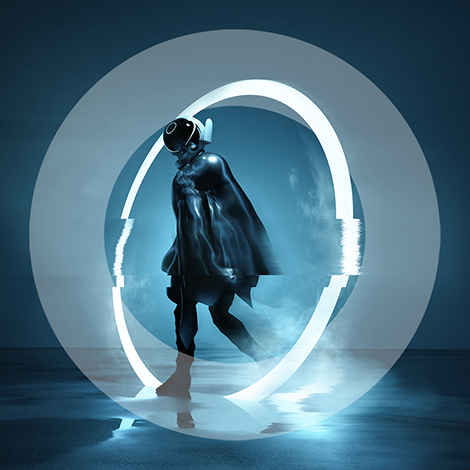 >> PDF: The Packaging of the Future // (open in new window)

The Pool° was designed with the packaging industry in mind because it offers the widest diversity of people working there. And because more beautiful packaging and less advertising will be the quickest feasible measurements to make our lives better on the biggest scale. ♥ You will see.
The Pool° is planned to be organised as a foundation with several Chairmen representing Inner Circle and Founding Members. The Organisation as a foundation makes the Pool° a reliable partner with a fair working environment as well as a trustworthy platform for sharing innovation budgets for truly relevant projects.
As a first step, the Pool° enlists a number of Founding Members that will give the organisation the critical mass required for success. Each Founding Member will be responsible for driving one of the five mission targets of the Pool° Foundation. They will be permanently leading the organisation once it is created.
>> PDF: The Pool° Organisation Mechanics Infoposter
The return on investment (ROI) out of the Pool° for an investing Company cannot always be measured in MONEY. For some members, it will be delivered as INNOVATION WORK // IMAGE // KNOW-HOW // NETWORK ...
It is the biggest problem of our current system that we have put far too much focus on money already. money is only a tool, it has no value as such. That is why the focus may not be on money, this is a totally wrong perspective and benchmark. Focus must always be on clear BENEFITS FOR HUMANS like QUALITY (of Life) or WORK EFFICIENCY, etc.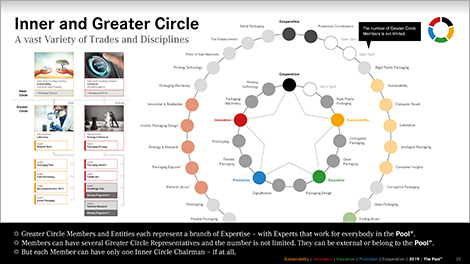 The same is true for work in general as well as for the different professions and disciplines. Especially for one of the key positions in our current society -- MARKETING -- the values and variables that are measuring success must be defined properly. What is a GOOD Marketer? This is to be discussed, I will give it a Try:
'A GOOD Marketer is a Creator of sustainable Benefits & Products and Services to create sustainable Benefits.'
★★★★★
>> PDF: The Pool° Organigram Structure Infoposter
🌐 The Pool° Organisation will grow into an international parallel Pool° economy besides the free-market economies of the different nations! 
The Pool° is planned to act as a BANK also, lending money to its other members (including freelancers) -- WITHOUT taking INTEREST, of course. Each member can decide how much of its Pool° budget will be made available for moneylending for other members. Do GOOD and TALK about it!
Inside the Pool°, it is planned to trade with both an own currency -- Pool°Credits -- as well as directly with certified Pool°TIME and Free°TIME. Work time will be able to be certified on different levels (around 7), starting with unskilled labour & ending with Chairman°TIME.
>> Because it is in Fact TIME that is the most valuable Good! -- Not Money.
⛲ The Pool° Foundation statutes are planned to be made available as public domain, so that this new kind of organisational structure can be used for the benefit of any other industry that has similar challenges like the packaging industry
Since these statutes cannot easily be changed after opening the foundation, they need to be defined in the right way to last for a whole Millennium. A lot of foresight is required & we need to check if the circumstances, paradigms & frameworks of our current society can be expected to last. And some rules & statutes will be defined with the aim of inducing social change.
Not the shareholder value, not the turnover or the ROI are how the Pool° will measure its success. Only benchmarks not connected to money can be fit for the Pool°, whose rules & statutes are designed to stay valid for a whole Millennium...
○○○
"Seek Your Happiness in the Happiness of All." [Zoroaster]
Other Pool° Sites:
>> Sustainability Wheel° (.com) // (.net) // (.org)
>> The Pool° - Office of Strategic Services // OSS° Mirror Site
>> Athena°s / OSS° SPOTIFY Playlists // No Frames